---
After the big announcement of the Chinese president Xi Jinping last year to bring Blockchain to mass adoption as soon as possible, the national Blockchain Network BSN (Blockchain Service Network) went live yesterday. The global launch is scheduled for the 25th of April.
The aim of BSN is to simplify the use of Blockchain from a technical point of view and to keep the costs of using Blockchain manageable for smaller companies and students. The BSN can be understood as a network of blockchains, which enables developers to easily handle permission-free and permission-obliged blockchain solutions via one central point. According to the white paper, users can use public Blockchains like Ethereum and EOS in addition to private Blockchains like Hyperledger Fabric, FISCO or BCOS. EOS has always been at the top of the Chinese Blockchain Ranking, a ranking of the best Blockchain projects published by CCID, the State Research Center for Information Technology and Industrial Development.
This is all accomplished with a kind of decentralized cloud solution, which is currently operated by 100 nodes. By the end of the year, these are planned to be increased to 200 and may grow further in the future. However, the cloud solution is not completely decentralized. The operators of the nodes check who uses the system and whether the projects are legitimate. Nevertheless, with the possibility of using a public Blockchain like EOS or Ethereum, decentralization is optional.
---
Screenshot of E-Yuan App appeared
Meanwhile, a picture is circulating on the Internet showing a smartphone application that resembles a Bitcoin Wallet. But the application is obviously used to manage and transfer Yuan.
According to various sources, the Agricultural Bank of China has issued a prototype which could be tested by a selected audience in the Shenzhen, Xiong'An, Chengdu and Suzhou regions, among others.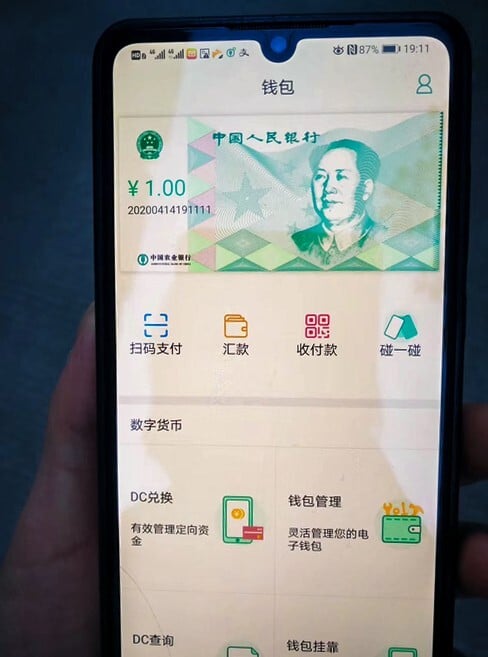 Meanwhile the download page of the app is no longer accessible. Either the tests have been further hidden or the test phase has been terminated. The last one would indicate that the project will be officially launched soon.
China has already indicated towards the end of last year that it will research a digital Yuan. The announcement of Facebook's global Stablecoin project Libra is likely to have driven this effort.
---
Conclusion
China is getting serious about the Blockchain revolution and it can be said that they are ahead at least in terms of adoption. It is quite possible or would make sense if the E-Yuan would run on the BSN. This would significantly push DeFi and the advantages of programmable money. It is not yet clear whether the network will support Bitcoin and other cryptocurrencies.
It is very likely that other major economic unions will follow China's example to avoid falling behind. The crypto market has reacted today and has made good gains. Most notably EOS and Ethereum, with an increase of around 10% over yesterday.
---